Our Coaches and Booster Club have been working hard to put together some great resources to help get you up to speed for the 2021 season, as we are not able to host our traditional Out of the Blocks meeting this year. We are pleased to present the attached video presentation to kick off the 2021 season! Many thanks to Coach Albregts and his editing team, our Coaches and Booster Club for making this possible to share with you!
Please take the time to watch the video as it is packed with great information about the 2021 season and important details on making the team! Parents and athletes should view the video before registering for the Track and Field with the 2021 Registration links shared via E-mail, posted to TeamApp (under "News") and on our Track and Field website.
We have also provided the "TENTATIVE 2021 Schedule" in the
DOCUMENTS

SECTION

.
In the link below, you will find the "2021 Milton Track and Field Rules and Policies" document for this upcoming season. Please be sure to review this as it shares important information on the Mission Statement and Philosophy for the Milton Track and Field Team, Athlete Expectations, Details on Making the Team, Rules and Policy Guidelines and the 2021 Lettering Policy.
SEE
DOCUMENTS
SECTION
SEE

YOU

ON

THE

TRACK

!
Registration for the 2021 Track and Field Season will begin in mid-November. Our Coaches and Booster Club will soon be sharing important details about the upcoming season and registration, as we are unable to host the in person Out of the Blocks meeting. Stay tuned for our virtual update!
WE HOPE TO SEE YOU ON THE TRACK!
Interested athletes & parents should complete the following steps to begin early registration steps and ensure that they receive important team updates for 2021:
SIGN-UP FOR OUR E-MAILS
Send an E-mail to miltontrackandfield@gmail.com to request to be added to our distribution list or with any questions.
SIGN-UP FOR OUR TEAM APP!
The latest information for Milton Track & Field is always on the TEAM APP, so Athletes and Parents sign up now! (Please note that 2021 information is still being loaded.)
Download Team App in your Apple Store or Google Play Store or www.TeamApp.com:
1. Sign up and join: Milton Track and Field
2. Athletes request to be added to: Players & Officials
Parents request to be added to: Parents
COMPLETE FORMS ON DRAGONFLY
(New to Milton Athletics for 2020-2021)
In order to participate in Preseason Conditioning starting November 17th and team practice beginning Jan. 11, 2021, athletes must have physical and insurance information loaded on DragonFly. If you have participated in Milton athletics this year, you should already have this step completed. If you still need to complete this step, please follow the attached instructions. The forms are easier to complete on a computer rather than on a phone and be sure to check your junk mail for the verification e-mail, as it may end up there.
DragonFly Registration (1).pdf (file:///Users/root1/Downloads/DragonFly Registration (1).pdf)
Milton HS also has an updated PreParticipation Physical form for 2020-2021 that must be loaded to DragonFly. Please be sure your information is up to date. This form is attached below for your reference.
Pre_Participation_Physical_Form_2020.pdf (file:///Users/root1/Downloads/Pre_Participation_Physical_Form_2020.pdf).
SUPPORT THE MILTON TRACK & FIELD BOOSTER CLUB
Corporate Sponsors
Milton HS Track & Field welcomes corporate sponsors. Click here for an informational flyer.
THE BOOSTER CLUB WORKS BEHIND THE SCENES...
...bringing parents, coaches, businesses and community together to share in and support a successful Milton HS Track & Field experience. At a time of defunding for school activities, the ongoing Booster Club support is imperative to maintaining the superior Track & Field program offered to Milton HS students.
The Milton HS Track & Field Booster Club is a non-profit, volunteer organization. Donations are tax-deductible and used 100% to fund programs of the Booster Club. Programs include:
Community Coaches - the additional coaches provide a higher level of coaching for individual events such as pole vault, shot put, discus, and running hurdles, sprints and relays.
Spirit Items - build team pride by wearing or displaying the Milton Track & Field team emblem.
Track & Field Meet Support - provide manpower to officiate and score individual events at home meets.
Fundraising and Community Volunteerism - support fundraising and community volunteerism efforts of the student-athletes.
Team Recognition - host events to recognize athletes for athletic achievements, exemplary sportsmanship, team spirit and academic achievements.
Capital Improvements - provide financial support for equipment and long-term venue improvements (specific to track & field competition or training).
2018-2019 BOARD OF DIRECTORS & KEY CONTACTS
President: Angie Butzow abutzow@mindspring.com

Co-President: Open

Vice President: Lisa Stanley pbman33@yahoo.com

Co-Vice President: Open

Secretary: Natalie Reilly nataliereilly14@gmail.com

Treasurer: Angela Cushman angelacushman@ymail.com

Asst. Treasurer: Open

Advisor/Acting Asst. Treasurer: Mary Williams k2w2@bellsouth.net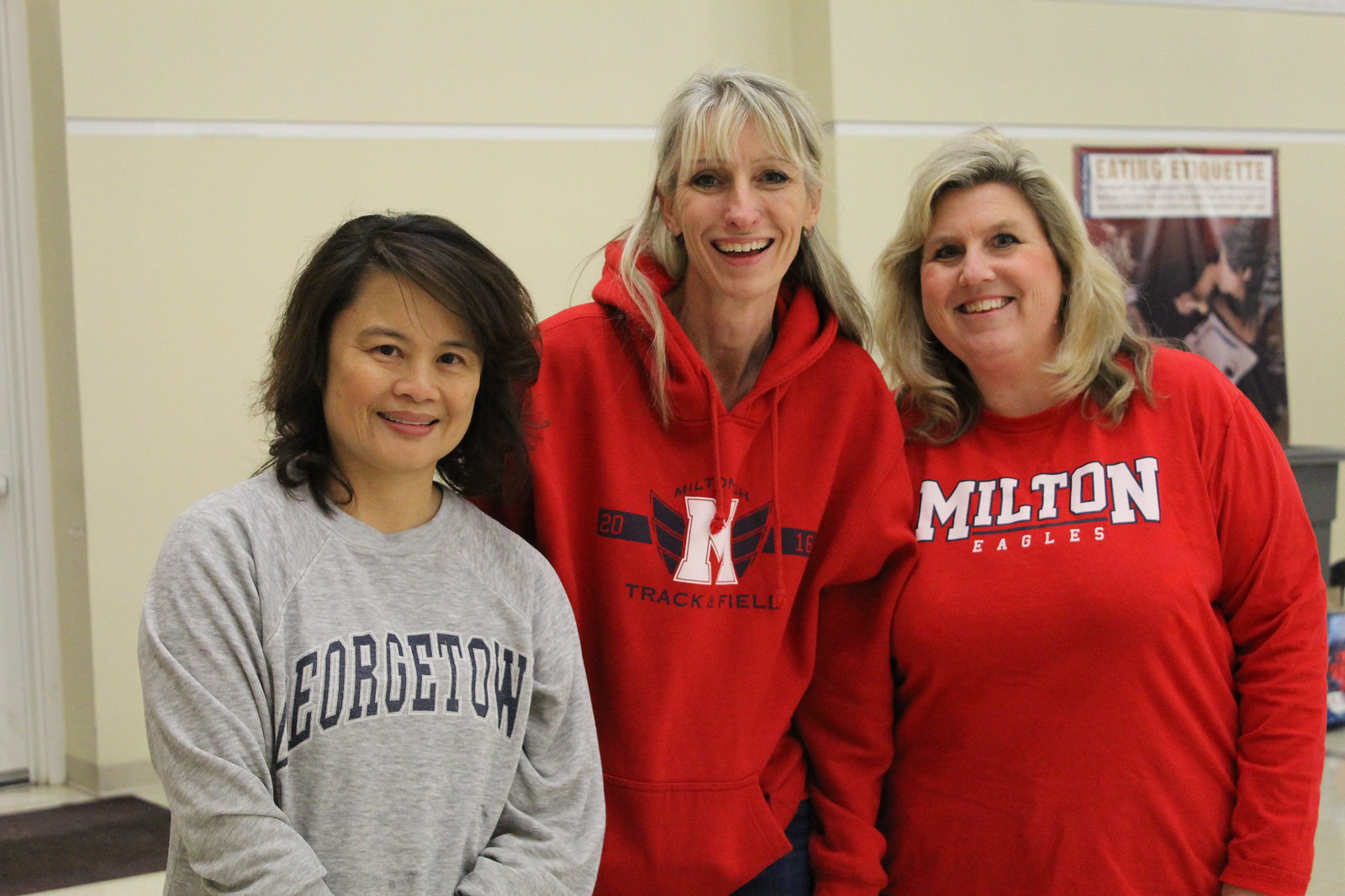 HAVE FUN. SHOW SUPPORT. BE INVOLVED.
Join one or more T&F Booster Club committees. Many hands lighten the workload, and you'll enjoy getting to know fellow parents, team coaches, and your child's teammates. Sign up to volunteer at the team's online Registration site, or email Mary Williams, Volunteer Coordinator. Indicate the areas in which you prefer to participate:
Fundraising (Assist organizing/leading fundtraising activities with students and/or Booster Club)
Concessions (Assist setup, selling & grilling for Concessions during home meets)
Home Meets - Scoring, Etc. (Assist scoring and other tasks at home meets)
Uniforms & Practice Gear (Sorting & distribution of uniforms and practice gear)
Snacks (Coordinate snacks & fluids for athletes at away meets)
Photography Coordinator (Coordinate online photography site for multiple parent submissions)
Meet Results, Stats & Records (Assist in compiling, publishing & maintaining team stats & records)
Publicity (Submit meet results and other press-worthy articles to local publications)
Pre-season team-building event (Assist coaches in organizing/leading team-building events & special activities)
Post-season recognition event (Assist organizing end-of-season awards event)
Capital improvements (Participate in planning & secure bids for capital improvements to T&F venues)
Sponsors (Develop & coordinate program to encourage merchants to sponsor T&F team)
Volunteer Coordinator (Assist overview of Booster Club volunteers)
Travel (Assit caoches in planning & organizing an out-of-town team overnight trip)
Board of Directors (Participate as an officer of the Milton T&F Booster Club)
Tax or legal advisor (Serve as tax or legal advisor to the Booster Club Board of Directors)
Wherever needed (one of our most valuable volunteers -- you are happy to help wherever needed)
Other (your suggestion)
Thank you in advance for volunteering.